"Heat in the Suite 2" Islandeady GAA fundraising boxing event!
"Heat in the Suite 2" - a fundraising white collar boxing event will be held in the Dome Suite of the Castlecourt Hotel on Fri 8th March. This is a fundraising event for Islandeady GAA & Fahy Rovers AFC. Tickets on sale soon, please support & come along to a great nights entertainment.
Islandeady Community Litter Cleanup this weekend!
The 1st of the Islandeady Community Litter Cleanups takes place this weekend, Feb 2nd & 3rd. This is a community initiative to keep Islandeady Clean and everybody young and old can help. Litter can be gathered & dropped off inside the GAA gates where Mayo Co. Co will collect on Mon Feb 4th. For more info contact James O'Malley 087 677 7751.
Rambling House session continues!
Rambling House session continues every Wed in the Comm Centre from 7:30 - 9:30pm.
Family Carers Mayo information day!
Family Carers Mayo will be holding an information day on Fri Feb 8th in the Cultural Centre, Swinford from 10am – 2pm. There will be a solicitor to advise on carers issues such as power of attorney etc & Eileen McGreal (HSE) will talk about Fair Deal. To book, please contact Bernadette on 086 377 5702 or 094 90 60305.
Westport based Women's Group meets weekly!
A Women's Group meets every Monday morning at Westport Family Resource Centre from 10am - 11.30am. The group is open to new members, if you would to join us in a friendly social space, meet new people and have a cuppa please come along. For more info please call Leanne on 098 24419
Westport College of Further Education Spring Evening courses!
Westport College of Further Education Spring Evening courses starting soon. Apply on www.westportcfe.ie (Night classes) to enrol. A wide range of courses available. Information on all courses is available on our website www.westportcfe.ie or phone 098 50800.
Western Alzheimers Carers Support Group
Western Alzheimers are holding a Carers Support Group in the Ard Ri Hotel, Tuam on the 1st Tues of every month. For more information contact Tom on 087 1930 233 or the office on 091 565193.
Islandeady Cycling Club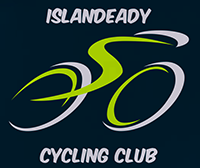 Indoor Cycling Fitness Classes for Beginners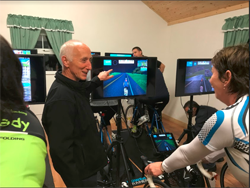 The islandeady cycling club, based at their clubhouse in Jack's old cottage Islandeady, are running a 6 weeks indoor cycling bike fitness and skills training course on Wednesday 19th september for 6 weeks every Wednesday evening and a second beginners class on Friday september 21st again for six weeks. Islandeady CC are fortunate to have a 12 bike specialized indoor cycling equipment, which runs the Zwift training system that allows individualized training programs based on your current bike fitness, so that each session is tailored to your specific ability and fitness levels making this training course ideal for all abilities and age groups.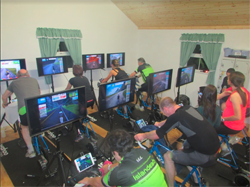 Each class is made up of small groups of 12 and led by two instructors and is held indoors in islandeadys state of the art digital bike training facility, for more information on this upcoming 6 week indoor training course, please contact Ray on 087 7499530 or drop an email to islandeadycyclinggroup@gmail.com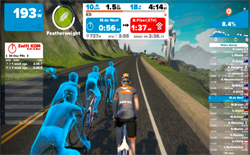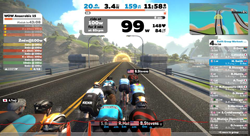 Islandeady GAA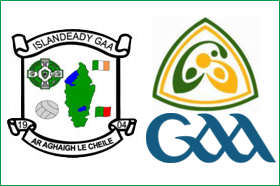 Islandeady GAA Lotto Draw takes place next Sun Feb 10th at 8:30pm in the Key West. There was No Winner of the €4,500 Jackpot held on Jan 27th. Results were:€40 Winner: John Byrne. €30 Winners: Michael McCormack, Buckley O'Connor, Pat Lawless. The next draw is next Sun Feb 10th in the Key West at 8:30pm where the Jackpot is now €4,550. Meeting: Islandeady GAA meeting this Wed Feb 6th at 8pm in St. Aidans

For all Islandeady GAA News, see
www.islandeadygaa.com

"Do everything with a good heart & expect nothing in return and you will never be disappointed"

Islandeady IFA fundraising for Chemo/Radium patients!
Members of Islandeady IFA are selling Fundraising tickets in conjunction with Cancer Care West towards the purchase of a bus for the County of Mayo to bring patients from Mayo for Chemo/Radium treatment in Galway. Tickets can be purchased from Owen O'Malley 087 745 0464 or Matt Fahey on 087 298 2717. Draw takes place in the Halfway House on Fri March 1st.
Islandeady Community Games Table Quiz Team!
Calling all Under 14 boys & girls (born after 31/07/05 & before 31/07/07) who are interested in being part of the Islandeady Community Games Table Quiz Team to please contact Catherine on (086) 3238 722 by Friday Feb 15th.
Cornanool N.S. "Open Night"!
Cornanool N.S. invites you to attend the schools "Open Night" on Tues Feb 19th at 7:30pm. Everyone welcome to view school facilities & chat to the teachers for enrolment for 2019/20.
Chess classes every week!
Chess classes every Sunday Night in the Community Centre from 6pm - 7pm. Ph 086 879 1237
Islandeady Foroige!
Islandeady Foroige meets every Friday Night in the Community Centre from 8:30pm - 10pm.
Islandeady Card Games!
Weekly Islandeady Card Games on Monday Nights, the venue is our local Community Centre in Islandeady. The game will start at 8:30pm sharp. Entry fee is remaining at €5 & a raffle will take place each night. The game will be followed by a 'cuppa' & some light refreshments. Everybody welcome, Single hands, so bring a friend.
Parish RIP's
If parishioners know of people who have recently died belonging to themselves or neighbours or with any Islandeady-Glenisland parish connections, please let Fr. Chris or Liam (newsletter) know so they can be included in RIP of newsletter and prayed for/remembered at mass.
The Parish Mass Diary 2019 is open!
The Parish Mass Diary is open for Mass Intentions & Weddings for 2019. Please note, when booking anniversary masses for Mon-Fri evenings in 2019, evening masses will now be held at 7pm in Glenisland & 8pm in Islandeady. These times will apply for the First Friday Vigil masses also.