WBC title fight - Good Luck Ray Moylette!
The Parish & Community of Islandeady/Glenisland wish local boxing 'Champ' Sugar Ray Moylette all the best in his upcoming fight for the WBC title in the TF Castlebar on Friday 7th Dec. Tickets for this event are available from Sharon by contacting 087 7665307.
First Aid/Defibrillator course!
A First Aid/Defibrillator course is being organised through the Islandeady Community Council. A max of 12 people is needed to run the course. If you are interested, please give your name to Philomena on 087 9626075
Pro Life Mayo talk!
Pro Life Mayo talk - Carol Nolan TD, formerly of Sinn Fein, Michael Dwyer and Paddy Manning will speak on The Way Forward for Ireland''s Pro-Life Movement on Tuesday 20th Nov at 7:30pm at TF Royal Hotel, Castlebar.
Advertise in this year's Islandeady Christmas Annual!
If any local businesses would like to Advertise in this year's Islandeady Christmas Annual, you can call Liam on 087 1361895 before Monday Nov 26th. A full page Advert is €40
Islandeady Community Council Christmas Magazine 2018 - items sought!
Items are now being looked for to include in the Islandeady Community Council Christmas Magazine 2018. All local clubs/schools/community groups and people are encouraged to submit any stories/ club news/old & new pictures/funny jokes/cookery recipes etc to Patricia Rice by 5pm on Monday 26th Nov by email: islandeadynewsletter@gmail.com
Rambling House Session continues
Every Wednesday in Islandeady Community Centre from 7.30pm - 9.30pm. Ag Deanamh ceoil, Sing that song, Tell that story, Play that tune or just simply come to listen. Look forward to an evening of light hearted fun. EVERYBODY is WECOME. For more information please contact Mary (087) 4135 188.
Parish 1st Communion/Confirmation 2019
• Parish Confirmation will be on Monday March 4th 2019 in Islandeady Church at 12 noon.
• Parish First Holy Communion will be on Sat May 11th 2019 in Islandeady Church at 12 noon.
Western Alzheimers - Festive Fair!
Western Alzheimers are holding a Festive Fair in Tribeton, Merchants Road, Galway (formerly Mc Donaghs Hardware)on Sunday November 25th from 11- 6. Come along and support this fair full of local crafters whilst supporting a local charity
Islandeady Cycling Club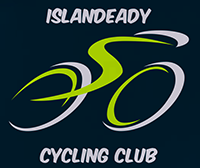 Indoor Cycling Fitness Classes for Beginners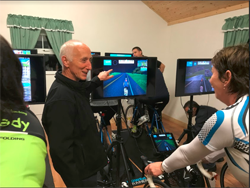 The islandeady cycling club, based at their clubhouse in Jack's old cottage Islandeady, are running a 6 weeks indoor cycling bike fitness and skills training course on Wednesday 19th september for 6 weeks every Wednesday evening and a second beginners class on Friday september 21st again for six weeks. Islandeady CC are fortunate to have a 12 bike specialized indoor cycling equipment, which runs the Zwift training system that allows individualized training programs based on your current bike fitness, so that each session is tailored to your specific ability and fitness levels making this training course ideal for all abilities and age groups.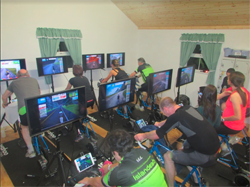 Each class is made up of small groups of 12 and led by two instructors and is held indoors in islandeadys state of the art digital bike training facility, for more information on this upcoming 6 week indoor training course, please contact Ray on 087-7499530 or drop an email to islandeadycyclinggroup@gmail.com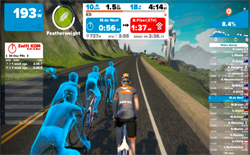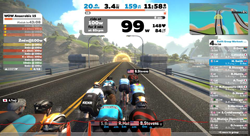 Islandeady GAA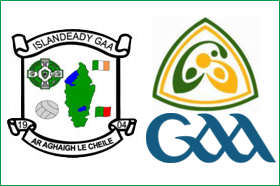 Islandeady LGFA U-13 Girls team will play Claremorris next Sat 17th Nov at 3pm in Islandeady

For all Islandeady GAA News, see
www.islandeadygaa.com

Remember Me
Speak of me as you have always done,
Remember all the good times, the laughter & fun.
Share the happy memories we've made,
Do not let them wither or fade.
I'll be with you in the summer's sun,
and when the winter's chill has come.
I'll be the voice that whispers in the breeze,
I'm peaceful now, put your mind at ease.
I've rested my eyes and gone to sleep,
but memories we've shared are yours to keep.
Sometimes our final days may be a test,
but remember me when I was at my best.
Although things may not be the same,
don't be afraid to use my name.
Let your sorrow last for just a while,
Comfort each other and try to smile.
I've lived a life filled with Joy and Fun,
Live on now & make me proud of what you'll become.

Islandeady Community Games AGM
Islandeady Community Games AGM will be held on Wed 21st Nov at 8:30pm in Community Centre. Chess for Beginners & Improvers ages 10 – 16 will start in the Community Centre this Sun Nov 18th from 6pm – 7pm. All Welcome, chess boards provided & free of charge.
Islandeady Annual "Sale of Work" - Thanks!
Islandeady Community Council Annual "Sale of Work" took place last Sunday. Sincere THANKS to everyone who supported this year's event & who organised the different events on the day. A great day had by all... Roll on 2019...!
Ta Gaeilgeoiri a lorg
Ta Gaeilgeoiri a lorg a bheadh sasta suirbhe beag cupla noimead faoi sceidil TG4 agus RTE Raidio na Gaeltachta a líonadh go rialta. Mar chomhartha aitheantais bionn duaiseanna breatha ar fail... 6 Dhearbhan One4all ar luach €100 - €500 le buachan gach mi.
Claraigh ag: http://www.fiosfise.ie/fiosru.asp
Tuilleadh eolais: eilis.nidhuill@oegaillimh.ie |Teil: 087 2941140
Islandeady Foroige!
Islandeady Foroige meets every Friday Night in the Community Centre from 8:30pm - 10pm.
School Mass in Leitir NS!
A School Mass will be held in Leitir NS next Friday Nov 23rd at 12 midday. All welcome.
Islandeady Card Games!
Weekly Islandeady Card Games on Monday Nights, the venue is our local Community Centre in Islandeady. The game will start at 8:30pm sharp. Entry fee is remaining at €5 & a raffle will take place each night. The game will be followed by a 'cuppa' & some light refreshments. Everybody welcome, Single hands, so bring a friend.
Christmas Pilgrimage Group to the Holy Land!
Christmas Pilgrimage Group to the Holy Land 19h - 27th December 2018 (Last Remaining Places) Taking in Bethlehem, Jerusalem (Mount of Olives, Garden of Gethsemane, Last Supper Room and Calvary), Mount Tabor, Cana, Nazareth, Jericho, River Jordan, Dead Sea and Sea of Galilee. Contact James Treacy on 061 921 470 or 086 0572 216. (Payments can be made in instalments).
ETB courses for 2019!
ETB courses for 2019 - Application forms for ETB funded courses for 2019 will be available shortly. If you are interested in organising a course on any topic, now is the time. If you want support in making an application or need relevant info to complete the application, contact Philomena at (087) 9626 075.