Islandeady cycling club - free information evening with cycling expert Eamon Marrey!
Islandeady cycling club have organised a special free information evening with cycling expert Eamon Marrey on friday 27th October at 7.30pm in Jacks old Cottage Islandeady home of islandeady cycling club.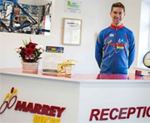 Eamon will advise on preparing you and your bike for road cycling this Autumn and Winter.
Eamon will cover basic bike maintenance - correct clothing to use - Use of gears and general cycling tips. this promises to be both informative and enjoyable with lots of hints and tips on improving your cycling experience this autumn and winter.
Islandeady cycling club will also be showcasing their new community skills training unit which is a state of the art indoor cycling centre using stationary bikes and virtual road cycling simulation technology to allow cyclists the opportunity to improve their cycling skills and confidence in a safe indoor environment.
islandeady cycling club are inviting individuals interesting in taking up cycling, those who are looking to improve their skills or experienced cyclists to come along to this special free information evening with eamon and bring a cycling friend - Friday October 27th - 7.30pm to 9pm in Jacks old cottage Islandeady castlebar.
Islandeady Christmas Annual - contribute!
The Editorial Team of the Islandeady Christmas Annual are kindly asking all local clubs, groups, primary schools and organisations, as well as local people for any stories, poems, jokes & any pictures they have for inclusion in this year's magazine. The group are also asking clubs and schools for a report of their activities for 2017. The editorial team is asking for all items to be in with Patricia Rice by Monday 19th November. Email: islandeadynewsletter@gmail.com If local businesses wish to take out an advert in the magazine, very generous rates are available. Contact Liam on 087 1361895 if interested.
Mission Sunday this Sunday!
This Sunday Oct 22nd is Mission Sunday. It is celebrated by every Church worldwide, including the poorest. It provides Catholics the opportunity to unite with their missionary sisters & brothers overseas and to recommit themselves to bringing the Joy of the Gospel to everyone they meet in their daily lives at home and at work. The theme of this year's Mission Sunday is "Reach Out, Spread the Joy".
Westport Regional Pioneers Dinner Dance!
Westport Regional Pioneers Dinner Dance will be held in Westport Woods Hotel on Fri Night Oct 27th. Tickets €25. For more information contact Bernie on 087 9870170.
Catholic Family Night!
Catholic Family Night on the second Friday of every month in the Church of the Holy Rosary, Castlebar. Our family nights include something for everyone: children's activities designed to pass on Faith, short adult presentations to grow in our own Faith, music and prayer with the Blessed Sacrament with fellowship and food to follow. All families and individuals welcome! More info on Facebook page fb.me@castlebarparish
Pastoral Council restarts including a cup of tea after masses!
The Pastoral Council will restart & continue to host the traditional cup of tea after masses on the first Sat/Sun of each month in the Presbytery & St. Aidans. The "Cuppa" has being missed over the past few months & it is hoped to keep it going! So please join us on Sun 1st Oct in St Aidans Islandeady & Sat 7th Oct in the Presbytery Glenisland for the Cuppa & a Chat!
Islandeady GAA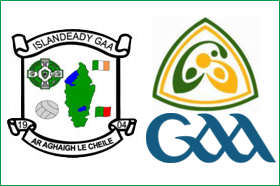 Islandeady GAA Lotto SUN 22nd October at 8.30 pm in the Key West. Jackpot €2,700.

For all Islandeady GAA News, see
www.islandeadygaa.com

Islandeady Cycling Club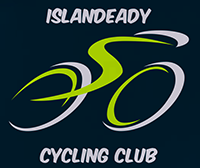 Islandeady Cycling Club - new investment of funds received through the national lottery!
Islandeady cycling club located in Castlebar co mayo hit the headlines last Autumn after receiving a grant from the national lottery fund through the HSE for the purchase of sporting equipment to help encourage their local community to get out - get health - through cycling.
The club have recently invested in state of the art virtual road cycling training equipment for their club house in Jacks old cottage islandeady and are using the Wahoo Kickr system to run community based spinning and training sessions for individuals interested in learning more about a healthy lifestyle and wellbeing through cycling.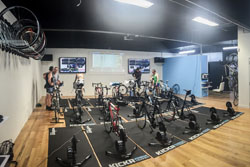 The virtual trainers recreate cycling road conditions and cyclists experience the changes in road surfaces including hills, descents, corners and town riding as if they were cycling outdoors on normal road conditions.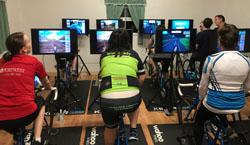 The training equipment not only gives users a great workout, it teaches participants skills and techniques in becoming a better and more confident cyclists and encourages individuals to get back on the road and to participate in sport through cycling activities over the autumn and winter months with their own families and the wider community.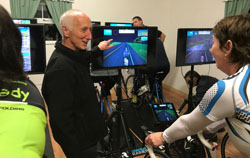 A wide range of groups and individuals have already experienced the clubs training program including local primary schools, senior community members, individuals with disabilities and cyclists returning to the sport. Participants receive a road safety information session, advise on health & nutrition and road skills.
The children from the local school have report increase cycling activity with their families after a recent training session with the club and many now using the bike to get to school, other users of the program including a local man in his 70's reports of increased confidence and a greater understanding of the importance of regular exercise.
Islandeady cycling club ,although located in a remote part of mayo, enjoys 106 members who participate in many community activities to promote health and well being including Pilates, yoga, 5k & 10 fun runs, and mindfulness classes.
More information is available on their club facebook page just click here https://goo.gl/1HgnxU" with recent photos and videos of the new health & well being facilities.facilities.
Thought for the Day!
'Moonlight is the proof that there will always be light in the darkness'
Islandeady Community Council Annual 'Sale of Work'!
Islandeady Community Council Annual 'Sale of Work' takes place on Sunday Nov 12th at 2pm in the Halfway. This Fundraiser ensures the cost of running the Community Centre is met & local groups can use the centre for their activities. All help & support is greatly appreciated. Ticket sellers will be visiting houses in the villages throughout the Parish shortly. Also, if people have items in good condition that they wish to donate, or home produce such as jams or wish to bake cakes, breads etc, all items will be greatly appreciated. If you can Volunteer or assist in any way, please contact John Cannon (Chairperson) 087 6390634 or Noreen Sadler (Secretary) 087 2982694.
Blas agus Blathanna na Nollag!
Blas agus Blathanna na Nollag! There will be a series of 6 lessons, in total, on cookery & flower arranging in the former Glenisland School. The lessons will be held every Thursday night, beginning on November 2nd and ending on December 7th. Beidh failte roimh chách.
November Masses to remember loved ones who have died
NINE masses will be offered in each church during November to remember loved ones who have died. The list of names will be placed before the Altar. If you would like Family & Friends included please take an envelope (at the church doors) & put the names & an offering for the nine Masses into the baskets with the Offertory collection next weekend 28th/29th Oct.
Clocks fall back one hour next SAT!
Note that Clocks fall back one hour next SAT night 28th Oct – winter time begins.
The Wednesday Get-Together has resumed!
The Wednesday Get-Together has resumed after the Summer Holidays! New Participants are welcome as well as the regular members. A hot meal & social activities all for €5. Transport available to bring participants to the Centre. Willing hands & generous volunteers are kindly required to give a few hours to help out, if you are interested pop into the centre on Wednesday!
Folk Group practices!
Folk Group practices every Tues Night at 8pm in Islandeady Church. Everyone Welcome.
New Email address for all CHURCH and PARISH matters!
The new email address for all CHURCH andPARISH matters is:
islandeadyadm@gmail.com
Also for Newsletter:
liamkeaveney84@gmail.com
The previous patd@anu.ie is strictly for personal emails for the retiring PP (patd).
Handel's Messiah at Knock Shrine!
Handel's Messiah will be performed at Knock Basilica on Sat 18th Nov at 7:30pm in conjunction with the RTE Concert Orchestra. Conducted by Proinnsias O Duinn together with Our Lady's Choral Society, Cor Mhaigh Eo & Ballina Chamber Choir. Tickets available now at www.knockmessiah.com & Downtown Records in Castlebar & Westport.