Islandeady Community Cleanup!
COMMUNITY CLEANUP will take place on Fri Jul 27th, Sat Jul 28th & Sun Jul 29th throughout Islandeady. Everyone is encouraged to give at least 1 hour to pick up any litter in their area. Encourage Family Members, Groups of Friends etc to help...many hands make light the work!! Bags of litter can be left inside the gates of Islandeady GAA Car Park by Sun Eve July 29th. For more info & details, please contact Breege on 087 288 9264 or James on 087 677 7751.
Cemetery Sunday in Islandeady!
CEMETERY SUNDAY in Islandeady will be SUNDAY 5th Aug. Instead of Mass in the Church there will be MASS at 11 a.m. in Islandeady Cemetery. Please inform people away from home about this Mass - which is only 3 weeks away. It is nice to make time to REMEMBER OUR DEAD. So please God everybody will make the effort to be there. CEMETERY MASS will be celebrated in Glenisland cemetery on Monday Aug 6th at 12 noon.
Cemetery Clean-up!
There will be a Cemetery Clean-up on MON 30th July at 7 p.m. and it is hoped that a large meitheal - ALL HANDS young & old - will come along to help out. ALL CLUBS in the Parish are kindly asked to encourage members to offer help also. If everybody makes the commitment then a lot can be achieved & please bring suitable implements with you …spades, wheelbarrows, strimmers, briar hooks, gloves etc. Also, people are kindly asked, in order to avoid litter in the graveyard, to take home any old wreaths & flowers from their graves.
Islandeady Community Fun Run Sat Aug 4th!
Islandeady Cycling Club is once again proud to host & support the Islandeady Community Fun Run 5k & 10k on Sat Aug 4th at Jack's Cottage in aid of the Jessica Needham Charity. This fun run is open to everyone & participants can jog – walk – or run the course. Everyone welcome to join & support this very special community event.
Cemetery Masses for 2018!
Cemetery Masses for 2018: Sun Aug 5th at 11am Islandeady / Mon Aug 6th at 12 noon Glenisland. Please inform Family & Neighbours who wish to remember their dead.
National Conference for Cancer Survivorship 2018!
"Living Well with Cancer" Choose from Galway on Saturday 15th September 2018 (Clayton Hotel, Ballybrit) or Cork on Saturday 22nd September (Clayton Hotel Silver Springs)This annual conference is an essential part of the Irish Cancer Society's work and aims to provide information and support to enable people to live well after a cancer diagnosis. It is for cancer survivors, those who care for them, health care professional and staff or volunteers from cancer support services. You will hear from a range of speakers who will share their experiences, stories and expert knowledge. There are practical sessions with art, writing, music, sleep, exercise, nutrition and much, much more. Attendance is free of charge. Online registration opens 25th July 2018. For further information visit
http://www.cancer.ie/living-well
or email
support@irishcancer.ie
Islandeady Cycling Club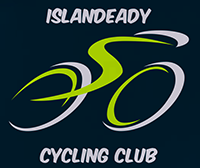 Team Islandeady Supporting Pink Ribbon!

The Mayo Pink Ribbon Cycle takes place every year on Saturday of the May Bank Holiday weekend. Since it's inaugural event in 2010 more than 1,000 cyclists have taken part and almost €700,000 has been raised for breast cancer research. The event is a leisure cycle with the emphasis on participation, fun, being challenged, whole community involvement, support for each other and above all passion to bring about change. It's a cycle event like no other and has been named the friendliest cycle in Ireland.
This year as is past years Islandeady Cycling club will support this great local event with a huge number of members participating in both the 51km and the longer 108km. Members of the club will also act as volunteers on the day as Motorcycle road marshals policing the route and as helpers providing hospitality for visiting cyclists.
6 week indoor Training Sessions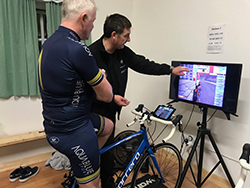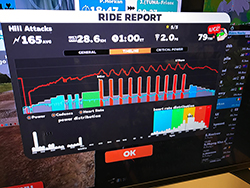 This year Islandeady cycling club have organised a 6 week indoor training program using their state of the art indoor virtual training studio at their club house in Jack's old cottage islandeady. This indoor 6 week program is designed to help cyclists prepare for the upcoming Pink ribbon challenge and is suitable for beginner and leisure cyclists looking to prepare for this years cycle in May. The 6 week program starts by measuring your current bike fitness and a special series of indoor on the bike workouts are designed for you with your ability in mind. Over the 6 week period your confidence and cycling ability will improve helping to prepare you for this years pink ribbon challenge.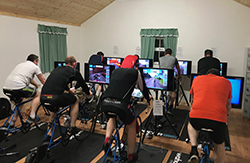 For more information on this upcoming 6 week indoor training session send an email to islandeadycyclinggroup@gmail.com or phone 087-7499530
Islandeady GAA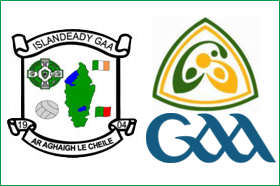 Islandeady GAA Lotto SUN 15th July at 8.30 pm in the Halfway. Jackpot €3,800.

For all Islandeady GAA News, see
www.islandeadygaa.com

Thought for the Day!
I asked God, "Why are you taking me through troubled waters?" He replied: "Because your enemies can't swim"
Grandparents Thanksgiving Mass!
Grandparents Thanksgiving Mass on Thurs 26th July at 10am in Tuam Cathedral, Feast day of St. Anne & St. Joachim, Grandparents of Jesus. All welcome. Refreshments served afterwards. The National Grandparents Pilgrimage to Knock takes place on Sun Sept 9th starting at 2:30pm with anointing of the sick. Chief Celebrant is Archbishop Jude Okolo, Apostolic Nuncio to Ireland.
Special blessing ceremony for all young children!
As part of Family Focus Week at Knock Shrine, there will be a special blessing ceremony for all young children (aged 0-12yrs) next Sat July 21st in the Basilica at 12 noon. Everyone welcome.
Organist from Islandeady Church to play for Pope Francis!
Well done to Sean Tunney, Annagh & former organist in Islandeady Church, who will play for Pope Francis when he arrives at Knock in August. We congratulate Sean on this fantastic achievement.
Islandeady GAA Cul Camp 2018!
Islandeady GAA Cul Camp 2018 takes place from the 23rd - 27th July between 10am & 2:30pm daily. Register now on
www.kelloggsculcamps.gaa.ie
or contact Pat Ryan on 087 2704 718.
New Garda Eric Carney - Congrats!
Congrats to Eric Carney, Cornanool, who recently graduated from Templemore Garda Training College.
JMN Benefit Night for v worthy local cause!
JMN Benefit Night in the Castlecourt Hotel on Friday 5th October for a very worthy local cause. Tickets €10 each & on sale throughout the Westport/Islandeady/West Mayo area. Music by X Men with raffle, auction & disco on the night. Tickets can be purchased from Cepta 086 1626357 / Paul 087 9814673 / Mike 087 2068275 or Frankie 087 2599179. Donations greatly appreciated!
Parent, Baby & Toddler Group in Islandeady!
Parent, Baby & Toddler Group in Islandeady Community Centre every Thursday & is open to any local Parent/Carer/Childminder with child/children aged 0-4 years. The group will meet every Thursday Morning from 10am to 12 midday in the Community Centre for informal fun and more. Refreshments and snacks are provided for children and adults. Cost is €2 per adult. For further enquiries and further information, contact Marcella or Valerie on 086 4012303.
National Franciscan Pilgrimage to the Holy Land!
National Franciscan Pilgrimage to the Holy Land 5th - 13th Oct 2018 ex Dublin Airport. Led by Fr. Bernard Jones OFM, Commissary to the Holy Land. Contact Premier Travel on 021 4277 700.
New Email address for all CHURCH and PARISH matters!
The new email address for all CHURCH and PARISH matters is:
islandeadyadm@gmail.com
Also for Newsletter:
liamkeaveney84@gmail.com