Islandeady Girls U-16 - County Final!
Well done to the Islandeady Girls U-16 team who recently defeated Louisburgh in their Championship Semi-final. They will play Balla in the County Final (date, time & venue TBA).
THANKS to All the Volunteers!
Sincere THANKS to All the Volunteers who have kindly assisted with the preparation of the two churches & who do the stewarding each weekend in Islandeady/Glenisland. Your generosity is greatly appreciated. Thanks to all the Readers who have kindly agreed to return to read at weekend masses. Readers will commence reading from the first weekend in September. Readers names will be included in the Newsletter for the following week. The reading will be printed by the Priest & left on the Ambo.
Islandeady Community Centre - Covid-19 guidelines!
A lot of work is currently ongoing to ensure Islandeady Community Centre is meeting the highest standards in relation to Covid-19 guidelines. A representative of the Centre Management Committee will meet with 1 representative from all the groups who use the Centre in the coming weeks to inform & update the groups & manage the safe return of the groups who wish to return to the Centre this Autumn. For further info please contact Liam on (087) 1361 895.
Glenisland Community is now on Facebook!
The Glenisland Community is now on Facebook with all local news, events and updates. You can find the page on facebook as 'Glenislandcommunity'. Please Like & Share for regular updates. Likewise, the Islandeady Community is on facebook under the name 'Whats on in Islandeady'. Like & Share for regular updates also.
Living Well Programme!
If you are living with a long term heath condition you may be interested in doing the 'Living Well' Programme. This is a six week programme delivered in 2.5 hour weekly sessions where you will learn new skills to manage your health condition on a day to day basis. This Programme will commence in September. You must register in advance as places are limited to 10/12 participants. Please note you do not have to disclose your health condition on the programme. Please contact Liam Gildea on 087 349 0393 or by email at
liam.gildea@mayocil.ie
Youth 2000 Summer Festival!
The Annual Youth 2000 Summer Festival is Ireland's largest Catholic Youth event & this year for the first time it will be streamed live on the 14th - 16th Aug. Hear talks and workshops from some of the best Catholic speakers including Fr. John Harris OP, Dr. Scott Hahn, Sr. Colleen Mattingly and Beth Davis to name but a few. You can register FREE at
www.youth2000.ie/summerfestival2020
Pilgrimage on Lough Derg's lakeshore
A new pilgrimage on Lough Derg's lakeshore - Walk and Pray in the Lough Derg tradition on 16, 18, 22, 26 & 30 August. At times in the 1600's and 1700's when Station Island was closed by the Penal Laws, pilgrims undertook a form of pilgrimage on the lough shore. Walk in their footsteps. Contact 0 (0353) 71 9861518 or info@loughderg.org Numbers limited.
Pastoral visits to the sick and housebound
Pastoral visits to the sick and housebound are an important part of Parish life. Anyone who was receiving a pastoral visit by the Priest before the outbreak of the virus and would like to receive the Sacraments again needs to contact the Priest and make the necessary arrangements. It is very important that we all take care of each other and that every effort is made to protect public health while attending church.
Dept of Heritage & Culture grant - Thank you!
Thanks to Minister Michael Ring TD for the announcement of €5,000 from the Dept of Heritage & Culture towards the ongoing repair work of the Obelisk on the Browne Estate in Rahins, Islandeady. This grant money has been obtained through the Historic Structures Fund.
Masses on TV and Radio
Masses are available on TV RTE News now daily at 10:30am (Saorview 21) and RTE 1 on Sundays at 11am. ETWN 6pm, Sky Channel 588 and Radio Maria daily at 10am, Saorview Radio channel 210. Mass is also broadcast on Midwest Radio every Sunday, Wednesday & Friday mornings at 10am.
Islandeady/Glenisland Parish Newsletter revamp!
The Islandeady/Glenisland Parish Newsletter has had a revamp & the new layout will be trialled for the remainder of 2020. All feedback & suggestions is welcome, you can contact Liam on 087 1361895 or email
islandeadyadm@gmail.com
Islandeady 2020 Yearbook/Magazine COVID-19
The Community Council want to document the events of the year related to the Corona virus lockdown. It's a major event in world history so it's important to record it from a Parish/Community perspective. Were you off school, college or work? Were you working in a different way? Maybe you were confined to the house? Had you a major event planned and couldn't go ahead with it? Are you a frontline worker? Were your sporting or social outings curtailed? Did you volunteer to help others? Did you do something new or learn a new skill? Why not write out the effect it had on your life and the lifestyle changes you had to make. Stories, poems & pictures welcome from all age groups. Email items to islandeadynewsletter@gmail.com
Pastoral visits to the sick and housebound
Pastoral visits to the sick and housebound are an important part of Parish life. Anyone who was receiving a pastoral visit by Fr. Chris before the outbreak of the virus & would like to receive the Sacraments again needs to contact the Priest & make the necessary arrangements. It is very important that we all take care of each other & that every effort is made to protect public health.
A Parish Prayer
Lord, bless our parish community at this difficult time.
Give me patience with myself and others so that I will not make these times any more difficult than they already are.
Grant me the ability to acknowledge my fears so that I will not hide from acting in a responsible manner.
Give me courage to overcome any selfishness that hinders any concern for others.
Grant me the grace to reach out to others by safe means and in a helpful way.
Give me courage when I am feeling lonely and the knowledge that isolation is a good thing for now and that I am never fully alone.
Grant me the gifts of kindness, patience and love.
Give me your blessing: in the name of the Father, the Son and the Holy Spirit, Amen.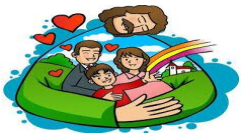 Prayer Garden in St. Patrick's Church Islandeady
The Prayer Garden in St. Patrick's Church Islandeady remains open as a place of Private PRAYER & REFLECTION. Pop in anytime, light a candle & pray for your intention in peaceful surroundings.
Fr. Brennan available to meet any individual BY APPOINTMENT
As it is impossible to implement the present protocol of social distancing in both churches of the parish, therefore it is not possible to hold any public function in the church under the present circumstances. Fr. Brennan remains available to meet any individual BY APPOINTMENT in Saint Aidan's Room while observing and maintaining all the health and safety protocols of social distancing. If you wish to make an appointment with Fr. Brennan you can contact him at (087) 1962 674.
Local Link Mayo - Grocery & Essential Supplies!
Local Link Mayo currently provide a grocery & essential supplies collect & deliver to the elderly, vulnerable & cocooning as well as providing essential travel for shopping and work. Local Link have repurposed during Covid-19 & as we move from one phase to the next of the Government roadmap for reopening society & business we aim to provide as much support to individuals and community organisations through current services. To avail of the service contact (094) 90 05150, email
mayo@locallink.ie
or text 086 029 3278. Local Link is funded by the HSE & the NTA.
ALL our students returning to school!
Congratulations to ALL our students who are returning to school at this time in our Parish. Many THANKS to all the school Principals, teachers and staff who have put in a great effort to open the schools and to make them as safe as possible for those who will attend schools in the coming months. Thank you also to the school Boards of Management who have been available for meetings, Zoom & phone calls to make sure that the schools could open and be safe.
National Grandparents Pilgrimage 2020!
National Grandparents Pilgrimage 2020 will be broadcast live on Sunday 13th Sept at 3pm from Knock Basillica. Join online at
www.knockshrine.ie/watch
Islandeady GAA Cul Camp - Success and Thanks!
A great week was had this week at the Islandeady Cul Camp. Thanks to all children who participated, the parents for their continued support & understanding, to Pat Ryan for organising each year & all the coaches who helped out.
Proposal to close Church Road (Cloonan) in Islandeady
It is proposed to close the Church Road (Cloonan) in Islandeady from the top of the road down to the Church for approx 9 months starting from the 11th Aug. A representation of people from the Community Council, Islandeady Church, Islandeady GAA, Cloggernaugh N.S, Local Business people & residents met with representatives from Wills Bros. Ltd & Mayo Co. Co. This road closure has been postponed temporarily until Wills Bros. Ltd come back to the group with an alternative to mitigate the impact of the road closure.
Glenisland/islandeady Public Masses - 2nd Update!
GLENISLAND: Mass 7pm: The Church will open at 6.30pm on Saturday. Parishioners are asked to follow the guidance of the ushers in the Church and go to the seat as indicated. All are asked to fill the Church from the front to the back. Holy Communion will be distributed in the Church porch as people are leaving the Church. The Church will be CLOSED on Saturday Evening after Mass and remain closed all day Sunday. In the event of a funeral the Church will be closed after the funeral Mass and remain closed for the rest of that Day.
ISLANDEADY: MASS 11am: The Church will open at 10.30am on Sunday. Same guidelines as above apply to Islandeady Church. The Church will be CLOSED on Sunday after Mass and remain closed all day Sunday and Monday.
Holy Communion will be distributed by the Priest at the end of Mass behind a screen. Fr. Chris will have Gluten Free hosts available behind the screen also. Just let him know. Apologies to all for the changes in church closure times, however this is a necessary in the interest of Public Health of our parishioners. *** In both Islandeady & Glenisland the toilet facilities will come back in use but on a limited basis. Only one toilet in each location will be open. In each case it will be the larger toilet that will be available along with the baby changing facilities. Anyone using baby changing facilities is asked to take away any nappies or other materials used in the care of the baby. ***
Booking an Anniversary Mass?
Anyone wishing to have an anniversary Mass for their deceased relatives and friends should do so in writing and place it in the church collection basket. Please provide your name and phone number. You may also book Masses by Phone, Text or E-mail. As both Sacristies are small and it is not possible to practise recommended social distancing in them, all are asked to refrain from entering the Sacristy before or after Mass. People should feel free to use gloves and or masks if they wish to wear them.
Searching for a long lost relative!
Is there anyone out there who could help me find a long lost relative? I am looking for a Thomas Ruane, born 1917 in Townyeena to Michael and Mary Ruane. Michael and Mary Ruane are buried in Glenisland churchyard I believe. I know that Thomas will be dead now as will his siblings but if there are any living relatives or friends of the family that can help me and tell me anything at all about Thomas' life I would be eternally grateful. I know that there may be several Thomas Ruanes born around 1917. The one I am looking for left Ireland at some point as he was working in England in Staffordshire in the late 1940's. Please please help! Thank you. Patricia Lis email mikeandtrish@sky.com
First Holy Communion - alternative arrangements!
First Holy Communion was to take place in May but had to be cancelled. Alternative arrangements will be made with the schools for new dates for First Communion once the students return to school. We keep these children in our prayers as they prepare for this Sacrament.
Parish Collection Envelopes are now available!
The Parish Collection Envelopes are now available. Parishioners are asked to collect their envelopes in the usual way. In an administrative change many numbers have changed so please look for your name and not the number. By making these changes it is hoped that the numbers will remain the same over the coming years. If anyone is new to the Parish and would like to receive a box of envelopes or if anyone has been missed out please make contact with the Priest on 087 1962 674 or email
parishig2017@gmail.com
Church Weekly Collection - Standing Order Form
Every possible measure has been taken to reduce parish expenditure and yet keeping the churches open, clean and safe for all to use for private prayer and reflection during the day. Yet there are ongoing expenses which cannot be eliminated. To keep the churches open and functioning and available for the future depends on the ongoing generosity of the people of the parish.
You may set up a standing order with your Bank making a weekly or monthly donation once again it is important that you let us know your envelope number so that the tax may be claimed back. There is a Direct Debit Mandate available on the website which you may complete and send to your bank, the printed version of Direct Debit Mandate is also available in both Churches.
Islandeady Glenisland Churches Open as Usual
Saint Patrick's Church Islandeady and Holy Rosary Church Glenisland remain open at the usual times, when possible the doors will remain open so that people may enter and exit without touching the doors. In Saint Patrick's Church a candle remains burning on the altar all day representing the prayers of all the people of the Parish before the Blessed Sacrament.
COVID-19 - Are you Thoughtful?
Are you Thoughtful? Some elderly & housebound parishioners in Islandeady & Glenisland have remarked how very much they appreciate it when a neighbour or family are thoughtful enough to bring them a copy of the weekly Sunday Bulletin ... & how much it helps to keep them in touch with life in the parish especially now with the Covid 19 restrictions. So... are YOU Thoughtful?
COVID-19 Support Line for Older People
- ALONE has launched a national support line and additional supports for older people who have concerns or are facing difficulties relating to the outbreak of COVID-19 (Corona virus). Professional staff is available to answer queries and give advice and reassurance where necessary. The support line is open Monday to Friday, 8am-8pm, by calling 0818 222 024. Hours may be extended to meet the demand.
Faith Resources!
Monica Brown is the Director of Emmaus Productions. They provide music and other audio visual resources, which enable children, youth and adults to connect with their faith. In response to the present virus crisis and the closing of our churches for Easter, Monica has kindly offered to make available much of her material free of charge to anyone who wishes to log on to the link below. They are very inspiring and should be of benefit to both adult and young people at these challenging times for our faith communities.
www.emmausproductions.com