Islandeady GAA Club Registration Day for Girls & Boys!
Islandeady GAA Club Underage Registration Day for Girls & Boys takes place Sun 18th Feb from 11:45am in Islandeady Community Centre. Everybody Welcome!
Pilgrimages to Fatima, the Holyland, Knock!
Easter Pilgrimage to Fatima 2018 (few seats remaining) led by Fr. Kevin O'Boyle. 6 days ex Dublin Full Board. Mass in St. Anthony's Church in Lisbon, Stations of the Cross in Fatima, all Easter Ceremonies included with Open Air Mass on Easter Sunday. Contact James Treacy 061 921470. National Franciscan Pilgrimage to the Holy Land 5th – 13th Oct 2018 ex Dublin Airport. Led by Fr. Bernard Jones OFM, Commissary to the Holy Land. Contact Premier Travel on 021 4277 700. Tuam Archdiocese Pilgrimage to Knock takes place on Sun 6th May. Everybody welcome.
Mindfulness for Stress Reduction!
Mindfulness for Stress Reduction Facilitators facilitated by Dr.Ann Caulfield and Derval Dunford. The primary purpose of this course is to teach a way to make the most of every day and to find ease and contentment through the practice of mindfulness.This 8 week course begins this Tues Feb 6th from 7.00p.m.to 9.00p.m. Cost: €100, offered by the Family Centre, Castlebar.
Zumba Exercise Classes in Jacks Cottage!

Zumba Exercise Classes in Jacks Cottage on Thurs 18th Jan from 7pm-8pm and running every Thurs night for 6 weeks. Great exercise class & great fun which is suitable for any age or fitness levels. Zumba classes give you a wonderful work out in a fun up beat environment, you do not need any previous experience as our zumba classes are ideal for beginners of all ages. Zumba classes feature exotic rhythms set to high-energy Latin and international beats, what a fantastic to get fit! Classes start 7pm Thursday 18th January in jacks old cottage islandeady - 6 weeks of classes cost €40 - places limited so book now on 087 - 7499530.
Cuppa & Chat after Mass!
Please join us in the Presbytery after mass this Sat 6th for a Cuppa & Chat.
Please join us in St. Aidan's after mass this Sun 7th for a Cuppa & Chat.
Registration for all World Meeting of Families 2018!
Registration for all World Meeting of Families 2018 (WMOF) events is open via www.worldmeeting2018.ie Individual pilgrims and families can now register for the main three day WMOF2018 Congress from Aug 22nd -24th, guaranteeing your ticket(s) for the Festival of Families on Sat 25th Aug and the closing mass on Sun 26th Aug. Register Now!
Congrats to Islandeady/Glenisland students!
Congrats to the many students from Islandeady/Glenisland who represented their Secondary Schools at the recent BT Young Scientist awards recently.
New Email address for all CHURCH and PARISH matters!
The new email address for all CHURCH and PARISH matters is:
islandeadyadm@gmail.com
Also for Newsletter:
liamkeaveney84@gmail.com
Islandeady Cycling Club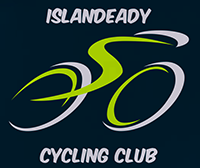 Islandeady Cycling Club - 10,000 Win fall for Mayo's most progressive Cycling club!
The National Sports Capital Programme aims to foster an integrated and planned approach to developing sports and physical recreation facilities in local community groups. In particular, its objectives are to Assist voluntary and community organisations, national governing bodies (NGBs) of sport, local authorities and in some cases VECs and schools to develop high quality, safe, well-designed, sustainable facilities in appropriate locations and to provide appropriate equipment to help maximise participation in sport and physical recreation.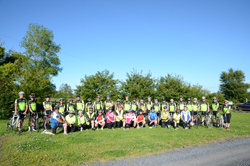 Islandeady cycling club located in Castlebar co mayo have received grant support to the tune of €10,000 in recognition to the outstanding support this local club offers to their members but also to the wider community in promoting cycling as a health option which all members of the community can participate in.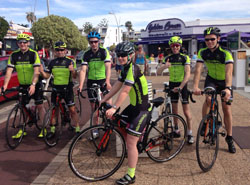 The club have recently invested in state of the art virtual road cycling training equipment for their club house in Jacks old cottage islandeady and are using the Wahoo Kickr system to run community based spinning and training sessions for individuals interested in learning more about a healthy lifestyle and wellbeing through cycling.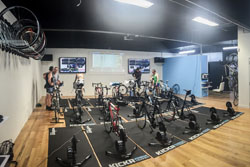 The virtual trainers recreate cycling road conditions and cyclists experience the changes in road surfaces including hills, descents, corners and town riding as if they were cycling outdoors on normal road conditions.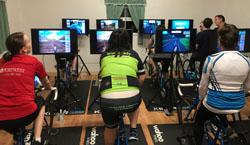 The training equipment not only gives users a great workout, it teaches participants skills and techniques in becoming a better and more confident cyclists and encourages individuals to get back on the road and to participate in sport through cycling activities over the autumn and winter months with their own families and the wider community.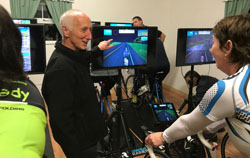 A wide range of groups and individuals have already experienced the clubs training program including local primary schools, senior community members, individuals with disabilities and cyclists returning to the sport. Participants receive a road safety information session, advise on health & nutrition and road skills.
Islandeady Cycling Club plan to invest in additional skills training equipment with a special focus on supporting individuals looking to return to road cycling, individuals with a current fear of cycling and those with physical disabilities to encourage and support this group to Get out - Get Healthy - through cycling.
More information is available on their club facebook page, https://goo.gl/1HgnxU", search islandeady cycling club on facebook, with recent photos and videos of the new health & well being facilities. Islandeady cycling club are open for new members and cycle every sunday morning from their clubhouse at Jack's old cottage Islandeady from 10am.
Islandeady GAA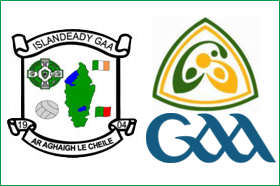 Islandeady GAA Lotto SUN 25th February at 8.30 pm in the Halfway. Jackpot €3,300.

For all Islandeady GAA News, see
www.islandeadygaa.com

Thought for the Day!
"Lent is a time for drawing near to Christ by listening to the word of God & celebrating the Sacraments" - Pope Francis
Islandeady Community Games!
Islandeady Community Games is looking for young people aged from 6yrs to 16yrs to take part in the "Art/model making/handwriting" category. This will take place this Tues Feb 20th at 6:30pm in Cloggernaugh NS. All welcome. Also, any U-14 Boys or Girls (born after 31/7/04) interested in representing Islandeady Community Games in the Table Quiz section, please contact Catherine Cunniffe on 086 323 8722 by this Friday Feb 23rd.
St. Pauls National School Cloggernaugh enrolments for the 2018-2019!
St. Pauls National School Cloggernaugh is now taking enrolments for the 2018-2019 school year. Please call into the school for an enrolment form or email stpaulsns@hotmail.com
Mayo Stroke Support Group meeting!
Mayo Stroke Support Group will hold its next meeting for stroke survivors & family members is on Thurs 22nd Feb from 11:30-1pm in Marcella Hall, Lough Lannagh Village. Guest Speaker is John Kelly, senior pharmacist MUH. Admission is free. Contact Ailish on 094 90 49172.
Stabat Mater Dolorosa: a day of reflection
'Stabat Mater Dolorosa: a day of reflection on the mother of Jesus at the foot of the Cross' A talk with Fr Michael Dunleavey, OP on Saturday 17th February. The talk will take place in the Prayer Guidance Centre from 11am-3pm. Cost €30 (includes lunch).
Islandeady Community Council elections are coming up!
ARE YOU THE TYPE OF PERSON.... who is interested in seeing their village represented when grants are given out?.... who wonders how best to lobby county council offices, politicians or other services, to draw attention to local requirements such as signage, drainage, road maintenance, village enhancement etc.... who would like to see a continuation of the superb services our Community Centre provides to all ages?.... who can come along once a month to work with a lively committed group? Islandeady Community Council elections are coming up in March. Consider putting your own name forward for election or nominating a neighbour who might be interested.
Mass Book for 2018 Islandeady & Glenisland Weekly Mass Intentions!
The Mass Book for 2018 Islandeady & Glenisland Weekly Mass Intentions is now open. Fr Chris is available to say mass for family intentions during the week if weekend mass times don't suit families. Week day Masses must not clash with Adoration Times in Islandeady & Glenisland & will only happen if Fr. Chris is available.
First Holy Communion preparations!
For people who like to be prepared well in advance, First Holy Communion will be celebrated in Islandeady Church on Sunday May 20th. Please keep the young children in your Prayers over the coming months as they start their preparation for the Sacrament of Holy Communion.
Glenisland Calender on sale!
The Glenisland Calender is wonderful value at €4. Money raised is used for running the Glenisland website & printed version of the Glenisland Newsflash. All support greatly appreciated.