First Holy Communion in Islandeady!
First Holy Communion will take place in Islandeady Church this Sunday May 20th at 11am. Please keep the 21 children in your prayers as they prepare for the Sacrament of First Holy Communion.
Islandeady Cemetery Clean Up!
Weeds/Paths in Islandeady Cemetery are now in need of the annual SPRAYING in preparation for Cemetery SUN Mass (5th Aug). People with Knapsack Sprayers - with your usual generosity - are asked to please gather and help on MON 28th at 7pm.
Islandeady/Glenisland Parish Pastoral Council 2014-2018 - Thanks!
Islandeady/Glenisland Parish Pastoral Council 2014-2018 term has now come to an end. THANKS to all the kind members who made the effort to serve & gave their time so generously.
Islandeady Community Council June Newsletter!
All Clubs, Organisations & Schools with items for the Islandeady Community Council June Newsletter to be with Patricia by this Mon May 21st at 5pm. Email: islandeadynewsletter@gmail.com Newsletter Sellers next Sunday May 27th: Owen O'Malley & Cormac Moran
Mayo Stroke Support Group Information session!
Mayo Stroke Support Group will host an Information session on "Adjusting to Stroke: The Family Perspective" in the TF Royal Hotel, Castlebar on Thurs 31st May from 11:30am – 1pm. Adm free & open to everyone. Further info from Barbara on 096 80451 or Ailish on 094 90 49172.
54 day Novena Rosary!
Save the 8th - 54 day Novena Rosary begins on Easter Sun (Apr 1st) and ends on Feast of Our Lady Help of Christians (May 24th). Contact Joan on 087 9141588 for more info.
National Franciscan Pilgrimage to the Holy Land!
National Franciscan Pilgrimage to the Holy Land 5th - 13th Oct 2018 ex Dublin Airport. Led by Fr. Bernard Jones OFM, Commissary to the Holy Land. Contact Premier Travel on 021 4277 700.
Tuam Archdiocese Pilgrimage to Poland!
Tuam Archdiocese Pilgrimage to Poland - Krakow / 7 nights from June 23rd - 30th 2018. Daily Tours. Contact Louise at 01 2410816 or leave name & address at 093 28337.
New Email address for all CHURCH and PARISH matters!
The new email address for all CHURCH and PARISH matters is:
islandeadyadm@gmail.com
Also for Newsletter:
liamkeaveney84@gmail.com
Rosary at Islandeady Church Grotto!
The Rosary will be said at Islandeady Church Grotto for the 4 Sundays in MAY at 8 pm - immediately after 7 to 8 pm Adoration - starting on next SUN 6th May. All welcome.
Islandeady Cycling Club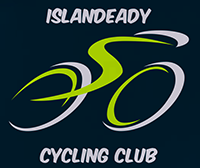 Team Islandeady Supporting Pink Ribbon!

The Mayo Pink Ribbon Cycle takes place every year on Saturday of the May Bank Holiday weekend. Since it's inaugural event in 2010 more than 1,000 cyclists have taken part and almost €700,000 has been raised for breast cancer research. The event is a leisure cycle with the emphasis on participation, fun, being challenged, whole community involvement, support for each other and above all passion to bring about change. It's a cycle event like no other and has been named the friendliest cycle in Ireland.
This year as is past years Islandeady Cycling club will support this great local event with a huge number of members participating in both the 51km and the longer 108km. Members of the club will also act as volunteers on the day as Motorcycle road marshals policing the route and as helpers providing hospitality for visiting cyclists.
6 week indoor Training Sessions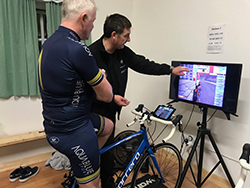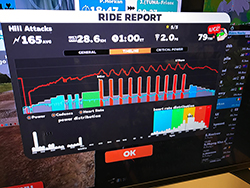 This year Islandeady cycling club have organised a 6 week indoor training program using their state of the art indoor virtual training studio at their club house in Jack's old cottage islandeady. This indoor 6 week program is designed to help cyclists prepare for the upcoming Pink ribbon challenge and is suitable for beginner and leisure cyclists looking to prepare for this years cycle in May. The 6 week program starts by measuring your current bike fitness and a special series of indoor on the bike workouts are designed for you with your ability in mind. Over the 6 week period your confidence and cycling ability will improve helping to prepare you for this years pink ribbon challenge.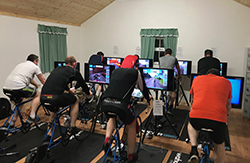 For more information on this upcoming 6 week indoor training session send an email to islandeadycyclinggroup@gmail.com or phone 087-7499530
Islandeady GAA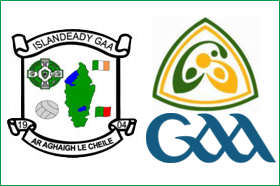 Islandeady GAA Lotto SUN 20th April at 8.30 pm in the Halfway. Jackpot €3,600.

For all Islandeady GAA News, see
www.islandeadygaa.com

Thought for the Day!
"Let the little children come to me, for the Kingdom of God belongs to such as these" (Luke 18:16)
Wednesday Get-together 1st Open Day!
The Wednesday Get-together will hold its 1st Open Day on Wednesday May 30th from 11am – 3pm. Come along, check us out, taste the wonderful cuisine & share in the fun. Everyone welcome. For further information contact Philomena on 087 9626075 or Patricia on 094 90 44797 (Tues & Wed)
Islandeady Artists - Pick up a Picasso!
Support Local Endeavour – Pick up a Picasso: You are cordially invited to come along to Islandeady Community Centre next Sunday May 27th to see the recent work of Islandeady Artists. Launch at 12:15 until 5pm. Chat to artists over a cuppa & you might be in with a chance to pick up an Islandeady Bargain!!
Referendum - 24 hours of Adoration in Islandeady Church
There will be 24 hours of Adoration in Islandeady Church starting on Wed 23rd May at 9pm & finishing on Thurs 24th May at 9pm for the protection of the 8th Amendment. Anyone wishing to spend time in prayer before the Blessed Sacrament, please contact Liam on 087 2639726.
Islandeady Community Futures Action Plan a "Workshop Event"!
As part of the review process for the Islandeady Community Futures Action Plan a "Workshop Event" will take place in St Aidans Room immediately after 11am mass on Sunday, 27th May. The ongoing review process has identified various projects & proposals. These will be outlined to you at this event & you will all be given the opportunity to prioritise them. When all priorities have been identified they will then be incorporated into our revised Community Action Plan which will launched later in the year. This is an ideal opportunity for everyone to have their say in planning our future development.
Nominations for Islandeady/Glenisland Church Pastoral Council for 2018-2022!
YOU are kindly asked to NOMINATE people (below) that you consider suitable to serve on the new Islandeady/Glenisland Church Pastoral Council for 2018-2022. Voting takes place from May 6th - May 27th. The 15 people who receive the most votes will be contacted and asked if they wish to serve & to commit themselves to some appropriate training & induction before moving to the stage where the group will meet every 6 - 8 weeks to: - Assess the parish as it is now. - Identify areas of need. - Plan for the future. Parishioners are advised that the term of the current Islandeady/Glenisland Pastoral Council will finish in May and a new Pastoral Council will have to be formed for 2018-2022. Nomination papers will be available in both churches over the coming weeks where you can nominate parishioners to form the new Pastoral Council.
The Western Care May collection!
The Western Care May collection is now on. Anyone who would like to give a donation can do so to any member of the Islandeady Ladies Club, who will pass it on to the Western Care Association.
Archbishop Neary pastoral letter on the Unborn Human Life!
Archbishop Neary has released a pastoral letter on the Unborn Human Life. The letter is available after Mass, all are encouraged to take it home and to study its content as an aid in making an informed decision for the future. The letter will also be available on the
Tuam diocesan website