Islandeady Community Cleanup - Next weekend!
Islandeady Community Cleanup will take place next weekend on Fri 23rd/Sat 24th/Sun 25th July. Everybody is encouraged to give an hour of their time and collect litter in their area. Bags of litter can be left inside the GAA gates for collection on Monday morning 26th July. Please help do your bit to keep Islandeady Clean & Green!
National Novena to Our Lady of Knock Postponed!
National Novena to Our Lady of Knock is being postponed in the interests of pilgrims Health & Safety until later this year. It was due to take place from the 14th - 22nd August.
Cloggernaugh Afterschool & Breakfast Club!
Cloggernaugh Afterschool & Breakfast Club is located at St. Paul's National School and will be starting in Sept 2021. Activities include Baking, Arts & Crafts, Outdoor Team Games, Indoor Games, Lego & Disco. A safe & secure environment with a variety of learning experience. Contact Lorraine Laffey at (087) 612 8098 for more details.
Public Worship Resumes in Islandeady!
Welcome Back to All our Faithful Parishioners as public worship resumes in a safe manner. Numbers are limited to 50 people & anyone attending mass should wear face masks, sanitize hands on entering & leaving church & follow the guidance of stewards & ushers.
Baptisms: Only Parents, Godparents, Grandparents & siblings of the baby permitted.
Weddings: Can now be attended by up to 50 people only.
Funerals: Can now be attended by up to 50 mourners only.li>
Until instructed otherwise by the GOI/HSE, these guidelines MUST be strictly adhered to!
Islandeady GAA Registration Online!
Islandeady GAA Registration is all online this year. New members are welcome at any age group & we are looking forward to welcoming back all our existing players & members. To register, sign up via
www.Foireann.ie
or you can contact Pat Ryan on (087) 2704 718.
Accord Catholic Marriage Care Service need Volunteers!
Accord Catholic Marriage Care Service is currently recruiting volunteers to train as marriage preparation programme facilitators. Successful applicants will receive professional training and will be part of a team delivering marriage preparation programmes locally in accordance with best practice. Contact Aisling on (01) 505 3112 or by email to
info@accord.ie
Closing date for receipt of registration of interest forms is Friday May 28th.
Enable Ireland Mayo Services need Volunteers!
Enable Ireland Mayo Services require volunteers to work with children with disabilities in the home or community. This is a great opportunity to give something back to your community while also learning new skills, making friendships & having fun. Training & support provided. If you would like to become involved, contact Fiona at Enable Ireland / The Safari club at 094 90 60234 / 087 6808 350 or email:
fscully@enableireland.ie
Getting married in Islandeady - don't for get your civil Registration Form!
Many couples have postponed their wedding from 2020 to 2021, in the hope that larger numbers of guests will be able to attend. It is very important for couples to ensure that their Civil Registration Forms is still valid for the new date they have selected. If their Civil Registration Forms is out of date, their wedding will not be able to take place. It is the responsibility of the couples to ensure that all paper work is up to date.
Live-in Carers for the Elderly
Affordable Live-in Homecare provides live-in carers for the elderly in this area. If you are looking for a live-in carer for a relative, please call Eileen or Tom today on 087 9916 791 or 087 7440729. You can look up the website also www.alhomecare.ie
UCD Player of the Year Award for Islandeady native!
Congratulations to Islandeady native Paul Doyle who was recently named and presented with the UCD Player of the Year Award for last season. Paul is son of Catriona & Gerry Doyle, Derrada. Paul is wished every success in his Academic & Sporting endeavours.
Islandeady School Enrolements!
Cogaula National School is accepting enrolments for the 2021/22 Academic year. Information and Enrolment Pack available from the school on request by emailing cogaulans@gmail.com Please provide your postal address in your email.
Cornanool National School is accepting enrolments for the 2021/2022 school year. For further details and information please email eolas@cornanoolns.ie
Cloggernaugh National School is now enrolling for September 2021. Please email principal@stpaulsnsislandeady.com for more details or visit our website at www.stpaulsnsislandeady.com where you can leave your details and we will contact you.
Glenisland Community is now on Facebook!
The Glenisland Community is now on Facebook with all local news, events and updates. You can find the page on facebook as 'Glenislandcommunity'. Please Like & Share for regular updates. Likewise, the Islandeady Community is on facebook under the name 'Whats on in Islandeady'. Like & Share for regular updates also.
Dept of Heritage & Culture grant - Thank you!
Thanks to Minister Michael Ring TD for the announcement of €5,000 from the Dept of Heritage & Culture towards the ongoing repair work of the Obelisk on the Browne Estate in Rahins, Islandeady. This grant money has been obtained through the Historic Structures Fund.
Islandeady 2020 Yearbook/Magazine COVID-19
The Community Council want to document the events of the year related to the Corona virus lockdown. It's a major event in world history so it's important to record it from a Parish/Community perspective. Were you off school, college or work? Were you working in a different way? Maybe you were confined to the house? Had you a major event planned and couldn't go ahead with it? Are you a frontline worker? Were your sporting or social outings curtailed? Did you volunteer to help others? Did you do something new or learn a new skill? Why not write out the effect it had on your life and the lifestyle changes you had to make. Stories, poems & pictures welcome from all age groups. Email items to islandeadynewsletter@gmail.com
A Parish Prayer
Lord, bless our parish community at this difficult time.
Give me patience with myself and others so that I will not make these times any more difficult than they already are.
Grant me the ability to acknowledge my fears so that I will not hide from acting in a responsible manner.
Give me courage to overcome any selfishness that hinders any concern for others.
Grant me the grace to reach out to others by safe means and in a helpful way.
Give me courage when I am feeling lonely and the knowledge that isolation is a good thing for now and that I am never fully alone.
Grant me the gifts of kindness, patience and love.
Give me your blessing: in the name of the Father, the Son and the Holy Spirit, Amen.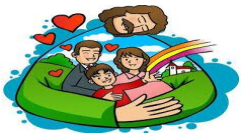 Islandeady GAA Cul Camp!
Islandeady GAA Cul Camp takes place from Mon 26th July to Fri 30th July. A FINAL REMINDER - There is a limited number of places available, please text Pat Ryan on (087) 270 4718. Its online booking only & children will not be accepted on the morning of camp without being pre-booked.
Islandeady Community Council AGM - Executive Committee!
The AGM of Islandeady Community Council took place recently. The Community Council agreed to keep the Executive Committee in place for another 3 year term. Officers for 2021 – 2024 are: Patron: Fr. Chris Brennan, Chairperson: Liam Keaveney, Vice Chairperson: James O'Malley, Secretary: Tanya McLoughlin, Asst. Secretary: Sephine Morris, Treasurers: Brendan Needham & T.F Gibbons, PRO: Cathriona Doyle, Asst. PRO: Alacoque O'Connell. If anybody wishes to join the Community Council for their area they can give their names to the Secretary Tanya McLoughlin on (087) 901 4363.
Annual Mameam Pilgrimage!
The Annual Mameam Pilgrimage will take place on Sunday Aug 1st beginning at 3pm with the "stationary" Stations – Turas na Croise, and followed by Mass. Confessions will be available in the car park on the Recess side. All subject to government guidelines and public health advice including social distancing, face coverings etc.
Islandeady/Glenisland Cemetery Weekend!
Cemetery Weekend in our Parish is the 31st July & 1st August. Mass in Glenisland Cemetery on SAT 31st July at 7pm & Islandeady Cemetery on SUN 1st Aug at 11am. Please inform people away from home about these Masses. Also attend to the cleaning of your Graves in advance and please bring old wreaths away and dispose of properly, a significant amount of debris/old wreaths was taken out of Bilberry Lake in Islandeady recently by locals.
Reek Sunday Pilgrimage on Croagh Patrick - on again!
The Annual Reek Sunday Pilgrimage on Croagh Patrick, which was cancelled last year due to the Covid-19 pandemic, will be going ahead this year albeit in a much extended format from Wed to Sat each week from 1st – 31st July. Mass on the summit every Wed/Thurs/Fri at 12 noon with confessions at 11am & mass on Sat at 10am with confessions at 11am (weather permitting).
Confirmations and Communions in Islandeady - Cancelled Again
In light of the recent government restrictions concerning the Covid-19 virus, First Holy Communion & Confirmation will not take place as planned on the 10th & 17th July. Confirmation will now take place on Saturday 14th August 2021. First Holy Communion will take place towards the end of September; date will be arranged once schools reopen. Meanwhile, the same government is permitting 8,000 people to attend a football match & all attending will go straight home! Double standards or what...??!!
Islandeady Sunday Mass Live Online!
From Sunday Morning 21st Feb you will be able to view weekly Sunday Morning Mass from Islandeady Church on the
"What's on in Islandeady"
Facebook page. Mass will be pre-recorded at 10am and will then be broadcast afterwards on Facebook at 11am. If you don't have Facebook - you can watch it
here
on the website, www.islandeady.ie!
"The Year of St. Joseph"
Pope Francis has declared 2021 "The Year of St. Joseph". In his Apostolic Letter, "Patris Corde" (A Fathers Heart) he describes St. Joseph as a beloved father, a tender & loving father, an obedient father, an accepting father, a father who is creatively courageous, a working father, a father in the shadows. Let us give thanks for our own fathers, living and dead, who have followed in the daily christian footsteps of St. Joseph.

A Prayer for Healthcare Workers during this time of Covid 19
Loving God, we place into your care all our doctors, nurses and healthcare workers. Give them courage of heart & strength of mind and body. Keep them safe from harm. May they know our deep gratitude for all they are doing to heal & help those affected by the Coronavirus. God of all consolation may they know your protection & peace. Bless them in these challenging days and bless their families. This we ask, through Christ our Lord, Amen.
Covid-19 - consider phoning Senior-Line!
If you are an older person and would like someone to talk to, particularly since Covid-19, consider phoning Senior-Line. We are Ireland's national confidential service for older people. We are open every day of the year from 10am-10pm. We are older people too, trained to listen and support. We would love to hear from you. Freefone (1800) 80 45 91.
Local Link Mayo - Grocery & Essential Supplies!
Local Link Mayo currently provide a grocery & essential supplies collect & deliver to the elderly, vulnerable & cocooning as well as providing essential travel for shopping and work. Local Link have repurposed during Covid-19 & as we move from one phase to the next of the Government roadmap for reopening society & business we aim to provide as much support to individuals and community organisations through current services. To avail of the service contact (094) 90 05150, email
mayo@locallink.ie
or text 086 029 3278. Local Link is funded by the HSE & the NTA.
Booking an Anniversary Mass?
Anyone wishing to have an Anniversary Mass for their deceased relatives and friends should do so in writing and place it in the Parochial House, Islandeady. Please provide your name and phone number. You may also book Masses by Phone, Text or E-mail. Mass for your Intention will take place over the coming weeks behind closed doors.
Parish Collection Envelopes
Parishioners can continue to drop their weekly Offering Envelopes into the Parochial House, Islandeady anytime they are passing. The weekly contributions goes towards the ongoing upkeep and care of the two churches in the Parish. Thank-You for your continued support. email
parishig2017@gmail.com
Church Weekly Collection - Standing Order Form
Every possible measure has been taken to reduce parish expenditure and yet keeping the churches open, clean and safe for all to use for private prayer and reflection during the day. Yet there are ongoing expenses which cannot be eliminated. To keep the churches open and functioning and available for the future depends on the ongoing generosity of the people of the parish.
You may set up a standing order with your Bank making a weekly or monthly donation once again it is important that you let us know your envelope number so that the tax may be claimed back. There is a Direct Debit Mandate available on the website which you may complete and send to your bank, the printed version of Direct Debit Mandate is also available in both Churches.
Islandeady Glenisland Churches Open as Usual
Saint Patrick's Church Islandeady and Holy Rosary Church Glenisland remain open at the usual times, when possible the doors will remain open so that people may enter and exit without touching the doors. In Saint Patrick's Church a candle remains burning on the altar all day representing the prayers of all the people of the Parish before the Blessed Sacrament.
COVID-19 - Are you Thoughtful?
Are you Thoughtful? Some elderly & housebound parishioners in Islandeady & Glenisland have remarked how very much they appreciate it when a neighbour or family are thoughtful enough to bring them a copy of the weekly Sunday Bulletin ... & how much it helps to keep them in touch with life in the parish especially now with the Covid 19 restrictions. So... are YOU Thoughtful?
Faith Resources!
Monica Brown is the Director of Emmaus Productions. They provide music and other audio visual resources, which enable children, youth and adults to connect with their faith. In response to the present virus crisis and the closing of our churches for Easter, Monica has kindly offered to make available much of her material free of charge to anyone who wishes to log on to the link below. They are very inspiring and should be of benefit to both adult and young people at these challenging times for our faith communities.
www.emmausproductions.com