New Islandeady/Glenisland Pastoral Council!
The new Islandeady/Glenisland Pastoral Council has being formed for 2018-2022. They are: Michelle Lavelle (Chairperson), Sephine Morris (Vice Chair), Breege Carney (Secretary), Lesley McNicholas (Vice Sec), Siobhan Barrett, Phil Browne, Noreen Coyne, Michael Dooley, Liam Keaveney, Michael McCormack, Cathriona McNally, Seamus O'Donnell, James O'Malley, Caroline Price, Anne Roache, Noreen Sadler, Teresa Walsh & Fr. Chris Brennan.
Islandeady Foroige - new Leaders!
Islandeady Foroige are looking for new Leaders, please contact Noreen on (087) 9361 002.
'Cuppa' after mass on the 1st Sat/Sun of the month
The nice tradition of having a 'Cuppa' after mass on the 1st Sat/Sun of each month will continue in Glenisland & Islandeady. For St. Aidans it is hoped some more "kind volunteers" might be willing to help out with serving the refreshments. If you are interested & can spare an hour of your time after mass on the 1st Sunday each month, you can give your name to Caroline Price on (086) 043 1053.
Rambling House Session will commence on Wednesday 3rd October in Islandeady Community Centre!
Rambling House Session will commence on Wednesday 3rd October in Islandeady Community Centre from 7.30pm - 9.30pm. Ag Deanamh ceoil, Sing that song, Tell that story, Play that tune or just simply come to listen. Look forward to an evening of light hearted fun. EVERYBODY is WECOME. For more information please contact Mary (087) 4135 188.
Zumba classes starting in Jack's Cottage!
Zumba classes starting in Jack's Cottage Thurs 20th at 7pm. €40 for 6 weeks.
Cookery Course for Men!
A six-week basic 'Cookery Course for Men' will start on Wed next 19th Sept 2018 at 7.30pm in Islandeady Community Centre. For further info & to register for the course, please contact Frank at (087) 2757 843.
Annual Sale of Work!
The Islandeady Community Council Annual Sale of Work takes place on Sunday Nov 11th at 2pm in Marty's Halfway House. All support this year is greatly appreciated.
Islandeady Cycling Club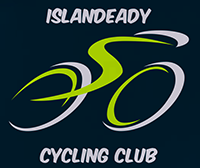 Indoor Cycling Fitness Classes for Beginners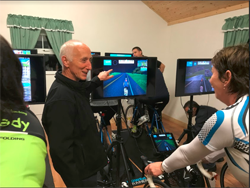 The islandeady cycling club, based at their clubhouse in Jack's old cottage Islandeady, are running a 6 weeks indoor cycling bike fitness and skills training course on Wednesday 19th september for 6 weeks every Wednesday evening and a second beginners class on Friday september 21st again for six weeks. Islandeady CC are fortunate to have a 12 bike specialized indoor cycling equipment, which runs the Zwift training system that allows individualized training programs based on your current bike fitness, so that each session is tailored to your specific ability and fitness levels making this training course ideal for all abilities and age groups.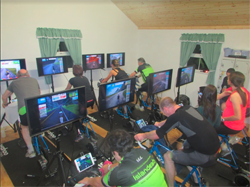 Each class is made up of small groups of 12 and led by two instructors and is held indoors in islandeadys state of the art digital bike training facility, for more information on this upcoming 6 week indoor training course, please contact Ray on 087-7499530 or drop an email to islandeadycyclinggroup@gmail.com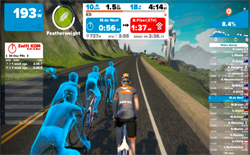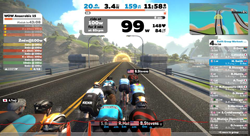 Islandeady GAA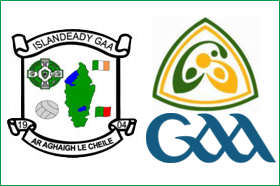 Islandeady G.A.A. Lotto - Next draw takes place Sunday 23rd September 2018 in the Key West. Jackpot is now worth €4,050

For all Islandeady GAA News, see
www.islandeadygaa.com

Are you Thoughtful? Some elderly & housebound parishioners in Islandeady & Glenisland have remarked how very much they appreciate it when a neighbour or family are thoughtful enough to bring them a copy of the weekly Sunday Bulletin (or Glenisland Newsflash/Community Council Newsletter)... & how much it helps to keep them in touch with life in the parish. So... are YOU Thoughtful?
Islandeady Card Games Returns!
On Monday Night, October 1st will see the return of the weekly Islandeady Card Games. The venue is our local Community Centre in Islandeady. The game will start at 8:30pm sharp. Entry fee is remaining at €5 & a raffle will take place each night. The game will be followed by a 'cuppa' & some light refreshments. Everybody welcome, Single hands, so bring a friend.
ETB courses for 2019!
ETB courses for 2019 - Application forms for ETB funded courses for 2019 will be available shortly. If you are interested in organising a course on any topic, now is the time. If you want support in making an application or need relevant info to complete the application, contact Philomena at (087) 9626 075.
2018 Genealogy Course, Islandeady Community Centre!
The 2018 Genealogy Course will begin on Tuesday 11th Sept at 7:30pm in Islandeady Community Centre & will run for 8 weeks. Those interested should contact Philomena at 087 962 6075 or Patricia in the Centre on Tues & Wed at 094 90 44797.
Western Alzheimers - Carers Support Group!
Western Alzheimers are holding a Carers Support Group in the Ard Ri Hotel, Tuam on the 1st Tues of every month. For more information contact Tom on 087 1930 233 or the office on 091 565193.
JMN Benefit Night for v worthy local cause!
JMN Benefit Night in the Castlecourt Hotel on Friday 5th October for a very worthy local cause. Tickets €10 each & on sale throughout the Westport/Islandeady/West Mayo area. Music by X Men with raffle, auction & disco on the night. Tickets can be purchased from Cepta 086 1626357 / Paul 087 9814673 / Mike 087 2068275 or Frankie 087 2599179. Donations greatly appreciated!