Clogher Heritage Centre Guided Nature Walk!
Clogher Heritage Centre Guided Nature Walk each WED during May. The first of these guided walks will take place on next WED 3 rd May commencing at 2 pm. All welcome.
'Resting in the Arms of God' Workshop!
'Resting in the Arms of God' workshop with Deirdre Ni Chinneide at Knock next SAT 6 th in the Prayer Guidance Centre. This workshop invites you to come away from the demands of busy life & listen & explore with others, the power & presence of God. 10am-4pm, fee €30 includes lunch. Ph (094) 93 75355 or email faithrenewal@knockshrine.ie
Awakening Concert at Breaffy Arena!
Awakening Concert on THUR 4th May at Breaffy Arena, Castlebar with over 400 senior students from 18 secondary schools in the Archdiocese. This youth concert will have a mix of music from Church to Contemporary -featuring songs from artists such as Leonard Cohen, U2, Robbie Williams, Take That. Tickets €10 & raffle proceeds will go to Pieta House. Ph Teresa 087-9271542 to book tickets now. Check out www.dyctuam for more.
May monthly Sick Calls
May monthly Sick Calls will be attended to next THUR 4 th May starting at 10.30 am in Islandeady Church area & continuing at 2 pm in Glenisland Church area next THUR 4th.
Islandeady Caring Services/Wednesday Get-Together - Thanks!
On behalf of Islandeady Community Council Caring Services/Wednesday Get Together, we would like to thank all those who contributed so generously to our annual Church Gate collection last Sunday. The total amount collected was €363.
Archdiocese of Tuam Pilgrimages 2017!
- Knock Pilgrimage to
New York
: 8th to 14th May direct from Knock airport. Details from Joe Walsh Tours 01-2410800 or email: bronwyn.clinton@joewalshtours.ie
- to
Shrines of Portugal
(inc Fatima for the Centenary Year) June 29th. 7 nights. Details & Booking Form from Therese at 012410822 or leave your name & address at 09328337.
-
Walsingham
, England's National Marian Shrine April 21st. 4 nights. Details from Margaret at 012808072 or 086 8554665
- Diocesan Pilgrimage to
Knock
Sunday, May 7th with the Blessing of the Sick at 2.30pm.
Macra na Feirme are looking for new members!
Macra na Feirme are looking for new members aged 17 to 35 years. Why not get involved in something new - sport, agriculture, travel, drama, social nights, community involvement and lots more. For more information contact Ciara 087 1888082.
Islandeady GAA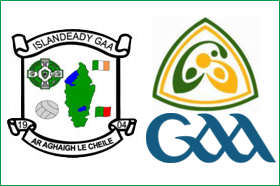 Islandeady GAA Lotto SUN 7th May at 8.30 pm in the Key West. Jackpot €4,700.

For all Islandeady GAA News, see
www.islandeadygaa.com

Islandeady Cycling Club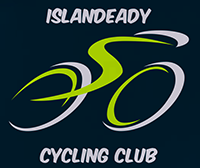 New series of indoor Cycle Spinning training classes!
Cycling for Adults has become so popular in recent times with many people taking to the road to enjoy the leisure aspect of cycling. Cycling is also a great way to get fit and active through a social activity.
Local group Islandeady cycling club have organised a special Beginners cycling course for adults looking to return to road cycling.
Their beginners course for Adults will teach you the basic road and bike skills you require to get back on your bike and enjoy the sport of cycling as an individual road cyclists or as part of a group.
This new course will teach basic bike skills, road safety, bike maintenance and how to cycle on rural and urban roads.
The course will run for six weeks every Tuesday evening from 7pm to 8.30pm starting on Tuesday 14th March in Islandeady Cycling clubhouse at Jacks old cottage in Islandeady with a mixture of basics cycling tuition and some practicable on the bike activities in a fun and enjoyable environment.
For more information on this Special series of classes for beginners visit our facebook page at https://www.facebook.com/islandeadycycling or contact club president Joe Moylette on 0879443626 12 classes for only €60, 6 classes for only €30
Places are for Adults only and limited to 15 So please book early.
Congratulations to our Club Member Trevor Costello!
Who recently completed a velotech course and is now qualified as a bike mechanic from Cycle Recycle in Newry, we wish Trevor all the best on his new venture.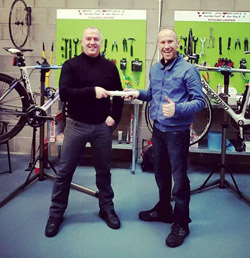 Thought for the Day!
' When life is difficult and you wonder where God is !
Remember that the Teacher is always Quiet
During the Test '
Rosary for May at Islandeady Church Grotto!
The Rosary will be said at Islandeady Church Grotto for the 4 Sundays in MAY at 8 pm - immediately after 7 to 8 pm Adoration - starting on next SUN 7th May. All welcome.
Weeds and Paths in Islandeady Cemetery
Weeds and Paths in Islandeady Cemetery are in need of the annual care and attention. Volunteers with Knapsack Sprayers are asked to please help on MON 15th May at 7 pm.
Parish Pastoral Council meeting!
Parish Pastoral Council meeting on MON 8th May at 8 pm in The Presbytery Glenisland.
Castlebar Darkness Into Light Walk!
Registration for the Castlebar Darkness Into Light Walk for Pieta House on Saturday 6th of May, will be available at Supervalu Castlebar on Thursdays 20th and 27th April from10 to 6pm, GMIT on April 25th and 26th from 6 to 9 pm. Registration also available on line at
dil.pieta.ie
.
MS Church Gate Collection - thanks!
MS Ireland would like to thank all the Persons who gave so willingly of there time to assist in holding the collection and to those the parishioners who contributed so generously, the amount raised was €409.72
Petition for Full Rheumatology Services for Mayo University Hospital!
Please join the Mayo Branch of Arthritis Ireland and Sign the Petition for Full Rheumatology Services for Mayo University Hospital
here
. Your help and support is much appreciated by the 26,000 people living with Arthritis in Mayo.
Islandeady GAA Club underage Training Resumes!
Islandeady GAA Club under 6 under 8 under 10 under 12 - boys and girls start training on Saturday the 25th March. Training will continue every Saturday from 10 o clock to 11. The Club's new pitch is now ready to train and play on. New players always welcome. If you would like to join Islandeady GAA Club contact 087-2704718.
Mayo Centre for Independent Living: Community Employment Position available!
Mayo Centre for Independent Living: Community Employment Position available in the Westport Area to work with a lady with a disability. For further details please phone Mayo CIL 0949034980/0872850302. This position is under the health related section and is available to anyone on a social welfare payment over the age of 21 years