Parishioner Nora Tunney - 100 years young next Sunday!
Congratulations to our Parishioner Nora Tunney, Kilbree, born on Monday 1st July 1918, who will be 100 years young next Sunday 1st July 2018. A Remarkable Lady. A Party for Nora will be held in her honour in Marty's Halfway House on Sat 30th June from 9pm. Everybody welcome. Why not come along & congratulate Nora. (The Water is reportedly good around the Islandeady Parish: Delia Collins, Leitir who is 105 years & Nora Tunney, Kilbree who is 100 years young!)
Celebration of Families at Ballinrobe!
Celebration of Families at Ballinrobe Race-course on Sunday July 1st - gates open at 1pm / Mass at 3pm Lots of Children.s activities & plenty of fun for all the family. Everyone welcome.
Christianity in Ireland before St Patrick - A Talk in Mayo Abbey!
The Infuence of ancient Egyptian Coptic Church on Early Irish Christianity - by Alf Monaghan, in collaberation with Mayo Abbey and the Tochar Valley Rural Community Network - June 28th 8pm, Mayo Abbey Community Centre. Refreshments Served - All Welcome!
Annual O'Malley Clan Rally!
The 64th Annual O'Malley Clan Rally will take place in Westport this year over the weekend of June 22nd to 24th. This rally includes many events that celebrate family heritage & Clew Bay in venues such as Westport House, Clew Bay Heritage Centre, Westport Town Hall and will also include Mass at Murrisk Abbey on Sunday, June 24th at 12pm. All are welcome.
Cemetery Masses for 2018!
Cemetery Masses for 2018: Sun Aug 5th at 11am Islandeady / Mon Aug 6th at 12 noon Glenisland. Please inform Family & Neighbours who wish to remember their dead.
Kilbree Altar Society - volunteers!
A few Kind & willing volunteers are required from the Kilbree area to join the Kilbree Altar Society for the month of August. If you are available for 1 hour per week for the month of August for preparing the floral arrangements for the sanctuary, please let Fr. Chris know you and/or your friends are available.
Islandeady Cycling Club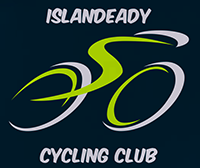 Team Islandeady Supporting Pink Ribbon!

The Mayo Pink Ribbon Cycle takes place every year on Saturday of the May Bank Holiday weekend. Since it's inaugural event in 2010 more than 1,000 cyclists have taken part and almost €700,000 has been raised for breast cancer research. The event is a leisure cycle with the emphasis on participation, fun, being challenged, whole community involvement, support for each other and above all passion to bring about change. It's a cycle event like no other and has been named the friendliest cycle in Ireland.
This year as is past years Islandeady Cycling club will support this great local event with a huge number of members participating in both the 51km and the longer 108km. Members of the club will also act as volunteers on the day as Motorcycle road marshals policing the route and as helpers providing hospitality for visiting cyclists.
6 week indoor Training Sessions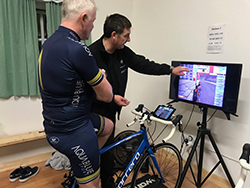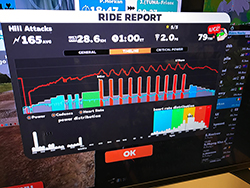 This year Islandeady cycling club have organised a 6 week indoor training program using their state of the art indoor virtual training studio at their club house in Jack's old cottage islandeady. This indoor 6 week program is designed to help cyclists prepare for the upcoming Pink ribbon challenge and is suitable for beginner and leisure cyclists looking to prepare for this years cycle in May. The 6 week program starts by measuring your current bike fitness and a special series of indoor on the bike workouts are designed for you with your ability in mind. Over the 6 week period your confidence and cycling ability will improve helping to prepare you for this years pink ribbon challenge.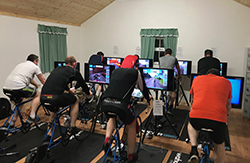 For more information on this upcoming 6 week indoor training session send an email to islandeadycyclinggroup@gmail.com or phone 087-7499530
Islandeady GAA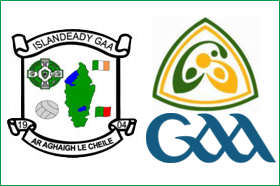 Islandeady GAA Lotto SUN 1st July at 8.30 pm in the Key West. Jackpot €3,750.

For all Islandeady GAA News, see
www.islandeadygaa.com

Thought for the Day!
Children brighten up our homes .... they never turn off the lights!
School Summer Holidays!
Thanks to the many teachers in our Parish, Primary & Post-Primary, who are finally on their holidays. Enjoy the break!! Also to the Boards of Management & Parents Committees who ensure a thriving learning environment is available in our schools. And may the pupils & students enjoy a busy activity based, long overdue Summer Holiday....!!
Kilmeena Local, John Regan, to be ordained!
Kilmeena Local, John Regan, is to be ordained into the priesthood this Sunday June 24th 2018 for the Archdiocese of Dublin. His first mass will be held in his local church in Kilmeena this Monday 25th June at 7pm. Fr. John is wished well from the parishioners of Islandeady/Glenisland in his ministry.
Principal of Cornanool N.S. is retiring
Ann O'Hara, Principal of Cornanool N.S. is retiring at the end of June 2018. Ann has taught in Cornanool since 1977 and has given 41 years of dedicated service to the school and the community. She is wished well by everyone at the school and leaves with the thanks and respect of past and present pupils and parents. In order to show our appreciation to her, the school is having an open day on Friday the 22nd June between 11-2pm. This is a chance to call in for a cup of tea and to thank Ann in person. We hope to see many of you there.
Parent, Baby & Toddler Group in Islandeady!
Parent, Baby & Toddler Group in Islandeady Community Centre this Thursday May 31st & is open to any local Parent/Carer/Childminder with child/children aged 0-4 years. The group will meet every Thursday Morning from 10am to 12 midday in the Community Centre for informal fun and more. Refreshments and snacks are provided for children and adults. Cost is €2 per adult. For further enquiries and further information, contact Marcella or Valerie on 086 4012303.
National Franciscan Pilgrimage to the Holy Land!
National Franciscan Pilgrimage to the Holy Land 5th - 13th Oct 2018 ex Dublin Airport. Led by Fr. Bernard Jones OFM, Commissary to the Holy Land. Contact Premier Travel on 021 4277 700.
New Email address for all CHURCH and PARISH matters!
The new email address for all CHURCH and PARISH matters is:
islandeadyadm@gmail.com
Also for Newsletter:
liamkeaveney84@gmail.com